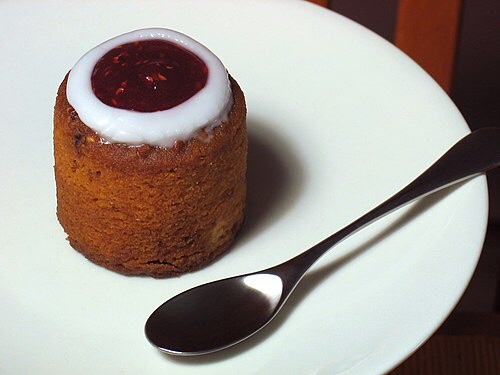 This torte is named after the Finnish poet Johan Ludvig Runeberg (1804–1877) who, according to legend, regularly enjoyed the sweet treat with "punsch" for breakfast. Runeberg tortes are typically eaten only in Finland and are generally available in stores from the beginning of January to Runeberg's birthday on February 5th; however, Porvoo, where Runeberg lived for most of his life, is an exception, as some of its cafés tortes are available every day of the year. Popular legend says that Runeberg's wife, Fredrika Runeberg, created the dessert.
Cake Mixture:
½ cup + 1 ½ tbsp all-purpose flour
½ cup + 1 ½ tbsp crushed gingersnap cookies
6 ½ tablespoons almond flour
1 ½ teaspoons baking powder
½ cup + 2 tbsp unsalted butter, softened
6 ½ tablespoons white sugar
3 ½ tablespoons brown sugar
2 large eggs
1 ½ teaspoons rum flavored extract
3 ½ tablespoons heavy cream
Filling:
3 tablespoons raspberry jam, or as needed
Icing:
6 ½ tablespoons icing sugar
1 egg white
Directions:
Preheat the oven to 400 degrees F (200 degrees C). Grease a muffin tin.
Mix flour, crushed gingersnaps, almond flour, and baking powder together in a medium bowl.
Beat butter, white sugar, and brown sugar in a separate bowl with an electric mixer until fluffy. Add eggs and beat until thoroughly combined. Mix in rum extract. Add dry ingredients and mix until combined. Add cream and beat until smooth.
Divide cake mixture evenly into the prepared muffin cups. Press a small hole in the middle of each cake and fill with a small amount of jam.
Bake in the preheated oven until tops spring back when lightly pressed, 15 to 20 minutes. Cool in the tin for 5 minutes, then transfer to a wire rack and let cool, about 20 minutes.
Meanwhile, sift icing sugar into a bowl. Add egg white and stir until smooth and shiny. Pipe icing onto the cooled cakes in a ring around the jam.