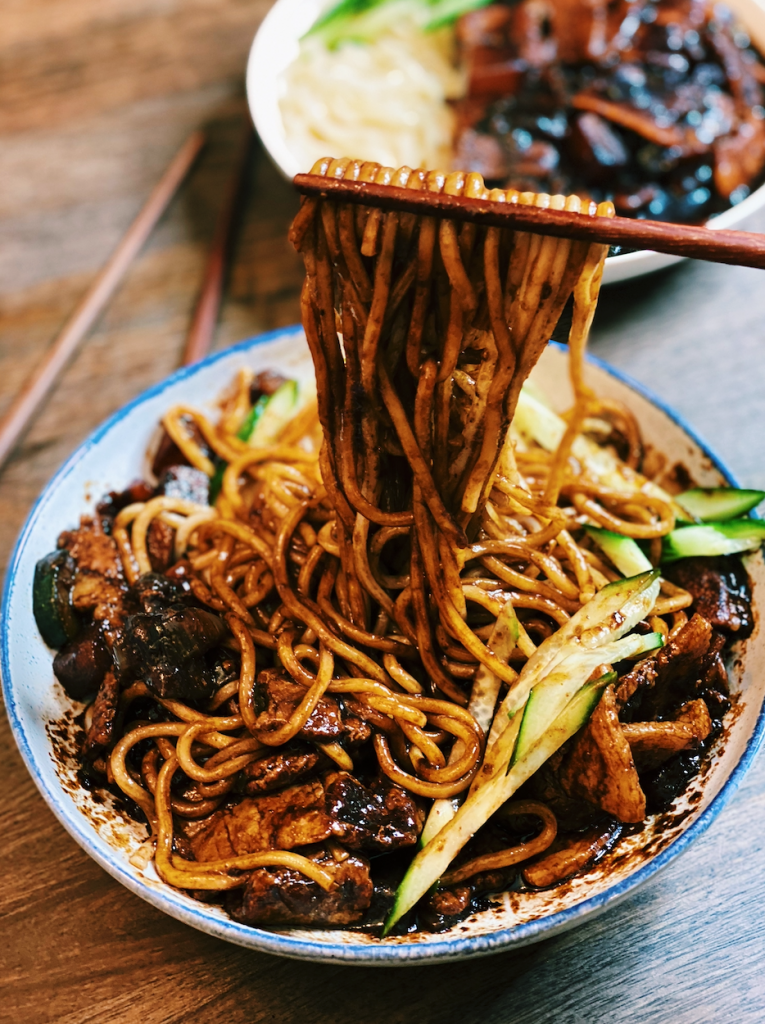 Black Day is April 14th and is a South Korean holiday for all of the single people who were slighted on the 14th of the previous months—Valentine's Day (Feb 14) and White Day (Mar 14). Although more of an "unofficial" holiday, it is customary to mark the occasion by eating jajangmyeon, traditional noodles in black bean sauce. Why not give our vegetarian-friendly version a try!
INGREDIENTS
1- 8oz. package dry udon noodles (or Chinese noodles)
1 tablespoon sesame oil
1 medium onion (finely chopped)
8oz. mushrooms (quartered)
1 zucchini (diced)
2 celery stalks (diced)
1/2 cabbage (chopped)
1/2 cucumber (peeled)
FOR THE SAUCE
6 Tbsp Korean black bean paste
2 Tbsp rice vinegar
2 Tbsp brown sugar
1 cup water
2 Tbsp potato or corn starch mixed with 1/4 cup water
salt and pepper (to taste)
INSTRUCTIONS
Bring a pot of water to boil.
In a large deep pan over medium high heat, add oil and onions. Cook for a couple of minutes until onions are translucent.
Add mushrooms and cook for 5 minutes, or until the water coming from the mushrooms has evaporated.
Add zucchini, celery and cabbage and stir well. Cook for 3-4 minutes, until vegetables are half cooked.
Add Korean black bean paste, rice vinegar and sugar and stir until sugar has dissolved. Lower the heat to medium and add water. Stir well, cover and cook for 10 minutes.
Whisk the starch mixture into the sauce and stir until it thickens. Turn the heat off and set aside.
Boil the noodles, rinse under cold water and drain well. Transfer to a serving bowl.
Top with sauce and sliced cucumber and serve.
Note: This recipe can include your favorite protein—anything from tofu to the traditional pork!